We love doing all the hard work on your behalf, taking care of your function and guests in every detail, and of course working within your available budget.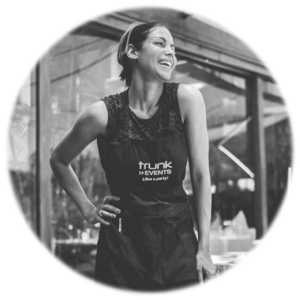 Tracy Branford started Trunk Events because she loves people, and has a reputation for organizing great functions. Everyone who knows her calls her the best hostess, with so much attention to detail yet always considering the client's overall budget. She puts emphasis on a well-organized function and adds her magic to the styling and décor and before you know it, you have one amazing chic wedding or event, which she personally coordinates too.
Tracy has more than 20 years' experience in the fashion industry and with her stylish background she specializes in planning, styling & coordinating very successful functions and weddings.
She has a unique concept in that she offers the complete solution – one person | one supply chain | one invoice. From the onset of the planning and conceptualization of the design and style of your function to the very necessary number crunching to keep within budget, she offers an extremely hands service at her functions and is the face from the start to end. You will find her on location setting up and styling the venue, to managing the waiters & barmen, as well as coordinating your entire program of your wedding day or event.
Contact Tracy to make your dream day come true. She will add a very personal touch to your wedding day and is the life and energy behind her brand called Trunk Events. She offers a remarkable full-service package of wedding styling and management extraordinaire!